Lessons For Life 2.0
The Friendship Circle's Lessons for Life 2.0 initiative provides a curriculum for the development of crucial social, cognitive,and emotional skills and an evaluative tool for assessing the progress of students with disabilities as tracked in their Individualized Educational Programs (IEPs). The program improves and monitors progress towards obtaining these skills through the direct application of life skills in a controlled environment utilizing Friendship Circle's Ferber Kaufman LifeTown facility's unique simulated community setting, the Weinberg Village. This method improves the capacity to meet goals identified in IEPs at minimal cost per student through structured use of the Village's real-life simulated town setting.
Teach, Reinforce, and Evaluate Developmental Skills in a Simulated Environment
Teach skills appropriately learned in a community environment through the Lessons for Life curriculum. Reinforce knowledge and understanding of skills and concepts learned through repeated, practical application in a realistic environment. Evaluate progress on targeted developmental skills and abilities through ongoing monitoring and evaluation by qualified professionals.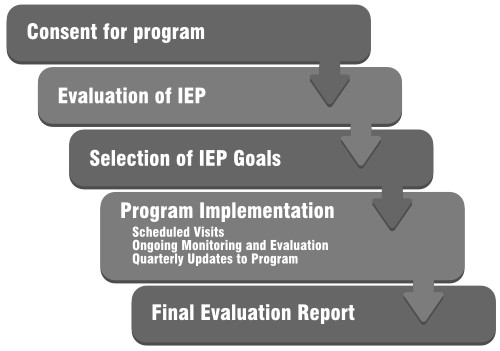 "There are many who feel strongly that instruction in the real environment is the right way to teach certain skills to students with disabilities.The ultimate goal for all persons with disabilities is to be able to function successfully within their own community. What I see as the 'niche' for the Friendship Circle is its ability to be a stepping stone to that goal. There are some students who may need smaller steps to get to the big one."
–Kathy Barker, Director of Special Education
Teaching functional life skills
Educators of students with disabilities face significant challenges in facilitating the development of life skills while meeting the standards set in subjects established by federal and state mandates.
Our program provides the unique opportunity to do both. Reinforcing lessons learned in the classroom… Translation of concepts learned in the classroom to real-life application. Demonstrated effectiveness in facilitating learning in academic areas in addition to increasing competency in community settings. Safer for students and less liability for teachers than community based instruction Evaluating progress to determine measurable outcomes… Convenient observation, monitoring and evaluation of task performance and interactions Unique opportunity for controlling environmental factors and interactions

Who can this program help? What kind of skills can be targeted?
Our target group includes individuals with the following diagnoses:
Cognitive Impairments (CI) ranging from mild to severe
Autistic Impairment (AI)
Emotional Impairments (EI)
Severe Multiple Impairments (SXI)
Physical and Other Health Impairments (PoHi)
Visual Impairments (VI) and Hearing Impairments (HI).
Lessons for Life facilitates the development of functional life skills. Although the facility and curriculum may indirectly contribute to improvement of academic skills, this is not the program focus.
What geographic area do you serve?
Since 2005, the Friendship Circle has served over 10,000 students from 156 schools all over Southeast Michigan. Included in this number are thirty schools from the Detroit Public School district. The region served is primarily Southeast Michigan, including Oakland, Wayne, Macomb and Washtenaw counties.
How does Lessons for Life 2.0 differ from the current program?
Under the current program, special education students receive the Lessons for Life curriculum as a part of a school group. Teachers select lessons that meet the needs of the majority of their students. While this imparts benefits for all participants, it does not necessarily address goals and objectives targeted in each student's IEP.
The goal of this program is to modify the Lessons for Life program from focusing on group needs to playing a vital role in improving individual objectives for each student. The program looks to become a key component in the fulfillment of IEP goals and become a primary source for the metrics needed to properly measure progress within these programs.